One of the hardest parts of having a work-at-home business is that you don't have set work hours. So there's nothing to tell you that you MUST work right now.
Add that to the fact that writing, speaking and blogging are all really self-motivated jobs (no one is requiring you to write today except for you), then it's easy to waste time or to ignore it all together.
And then, to top it all off, many of us have other jobs that require our attention, so speaking and writing just get the "leftovers". How can we build a speaking ministry when all we can do is snatch some time here and there?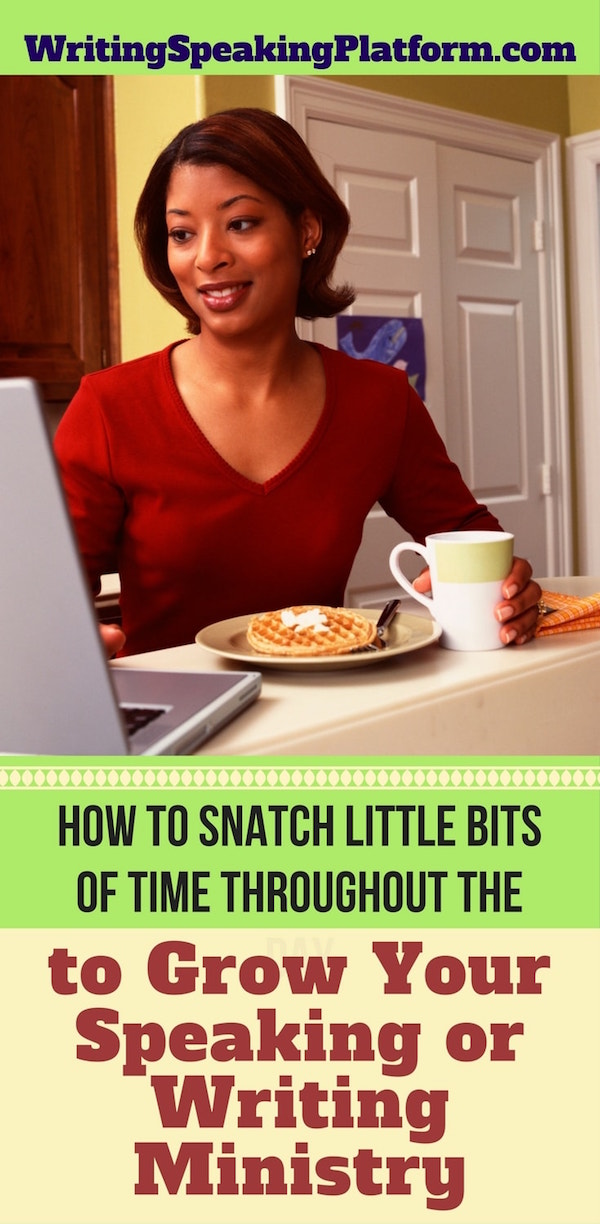 Make Use of the Time You Do Have!
Instead of waiting to have a 5 hour block of time free to work on growing your speaking or writing ministry, use the time you do have. Just think of how 10-minute blocks of time can add up over a month! What would happen if, instead of checking Facebook because you don't think you have enough time to do anything with your ministry, you actually did one tiny task? Tiny things add up to big things.
So let's look at some tasks that can be done using whatever time is available.
Just a note: I often separate the "writing" tasks from the "editing" tasks, because I find that leaving space between the writing and editing process is useful. If it takes an hour to write and edit a blog post, for instance, it's better to spend that hour writing two blog posts, and then another hour editing those two blog posts, rather than trying to finish one blog post in a single hour. You'll find that if you come back to a blog post after some time, you'll notice more if the ideas don't flow well than if you try to edit right away.
When You Have 5 Minutes to Grow Your Ministry
Brainstorm blog posts for the month and enter them in a schedule (I use Co-Schedule to organize my blog)
Email someone who organized one of your past speaking engagements or who collaborated with you in the past and send them something interesting: a new study you found on the internet; some personal news about mutual acquaintances; or just a say hi.
Find someone influential in your niche on Twitter to follow, and check out the people they follow and also follow them if they're appropriate
Reply to 3 retweets or direct messages on Twitter
Leave 3 comments on interesting Facebook posts of important people in your niche, so that they remember your name and recognize you
Leave one blog comment on a prominent blog in your niche
Prune your Twitter list-unfollow people who haven't followed you (I use Crowdfire)
Create a list in Twitter for specific people-fellow speakers, interesting authors, newsworthy individuals, bloggers in your niche
Post on Instagram
When You Have 15 Minutes to Grow Your Speaking Ministry
Create a Facebook Page for your ministry, if you don't have one yet
Search interesting things in your niche on the internet to add to your newsletter (and store the links somewhere useful so you can find them again, like in a list on Evernote)
Schedule your Facebook posts for a few days (I use Co-Schedule for that, too)
Schedule some Twitter posts
Go on Pinterest and create a few boards using the keywords in your niche (Anxiety and Depression among Christians; Christian marriage; Menopause; Christian Sexual Abuse Survivors; whatever it may be! Create a few boards using very specific key phrases)
Scour Pinterest and add some high quality pins to your boards
Reach out to three bloggers in your niche and suggest a guest post
Moderate and reply to comments on your blog, YouTube channel, or social media
Touch base with an upcoming speaking event and make sure that they are advertising the event and see if there's anything they require from you.
Update your website with your most recent speaking engagements
Put up albums onto Facebook with recent pictures of you speaking. Add some of the best photos to your website.
When You Have 30 Minutes to Grow Your Speaking or Writing Ministry
Research something that you need to move you to the next level-starting a blog, creating a newsletter (I use MailChimp for mine, and it's free for the first 2000 subscribers), finding a publisher, creating an online course (I use Thinkific)
Write a blog post for your blog
Write a guest post for another blog in your niche
Edit a blog post
Craft a newsletter
Edit a newsletter and send it out
Brainstorm a new talk
Write a few pages of your book
Edit a few pages of your book
Research churches where you may want to speak, and find the names and emails of the people who would be in charge of hiring speakers
Send out emails to people in churches where you want to speak
Schedule your Facebook posts for a week (I use Co-schedule)
Interact with people on a specific Twitter list. Use a different list than you did last time you were on Twitter so that you hit the important people regularly.
Film a Facebook/Instagram Live (depending on where the majority of your following is) talking about an issue directly related to your niche or delving deeper into your favourite blog post of the month
Reply to at least three emails
Skype with another speaker/blogger and pray with them, share ideas, or brainstorm
Write a pitch for a magazine about an article you could write
Go through speaking evaluations and pull out testimonials from you speaking, and put those testimonials up on your website
When You Have an Hour to Grow Your Speaking or Writing Ministry
Set your goals for what you want to accomplish this year, and set deadlines for when you want to meet major goals (like creating a product or launching a newsletter)
Write a chapter of your book
Edit a chapter of your book
Script a new talk or a new video
Film a Facebook/Instagram Live Q&A, if you have an active follower base who will ask questions
Analyze your interaction on your blog and social media and newsletters for the last month. Which posts resonated the most? Set these in a schedule to share again and plan on writing more in this area.
Add more detail to your new talk (I have a skeleton for how to write a talk in my course Launch Your Speaking Ministry).
Record a video for your online course (I use Thinkific)
Edit a video for your online course
Create printables or handouts for your talk or online course
Edit the audio from a talk that you've recently given and put it up on your website
Start creating a short video (say 3-5 minutes) featuring some pictures of you speaking, with the audio in the background of you telling an important story or making a really profound point
Edit that video and upload it to YouTube and to your website
Now, imagine if you actually did something from these lists whenever you had some free time? Imagine how fast your ministry could grow!
My daughter Rebecca (who is also a speaker and blogger and author) and I brainstormed for this post, but we likely missed some things. So help me add to it! What would you do if you had 5 minutes, 15 minutes, 30 minutes, or an hour? Let me know in the comments!