I've just returned from speaking at Breakforth, one of Canada's largest Christian conferences.
It was a wonderful weekend with amazing speakers and great special music, and definitely worth attending.
But three years when I spoke there my average audience was about 400 over 3 talks. This year it was more like 60.
The conference itself has shrunk.
But it's not Breakforth's fault, as near as I can see. I see the same thing when I speak at weekend-long marriage conferences, or at denominational women's conferences.
Fewer people are attending traditional conferences.
That's a problem for us as speakers, because one of the best ways to get your name out there is to do a workshop (rather than a keynote address) at one of these large conferences. It's often quite easy to get hired to do workshops, and since people from so many churches attend, it's often quite easy to get more speaking engagements out of it.
But fewer people at a conference means fewer breakout sessions, which means fewer opportunities for workshops.
Individual events at churches still seem to be doing quite well, but these large events seem to be drying up.
So we have a choice, as speakers: we can be disappointed and throw in the towel, or we can recognize this as a unique opportunity to reach people in a different way.
Why don't people attend conferences as much anymore? I think there are a variety of reasons.
Conferences are expensive, and we've been through an economic downturn
People are more inclined to work shift work or have less regular hours, so finding a weekend free (especially a weekend where someone else can do childcare) is becoming increasingly difficult
But the biggest reason, I think, is this:
We can get the same information online.
Why go to a conference if you have access to amazing sermons by Francis Chan online? Why go to a conference when you can listen to downloadable sermons, watch videos on YouTube, or do your own book study with resources that are right at your fingertips, at a schedule that suits you?
What does this mean for speakers?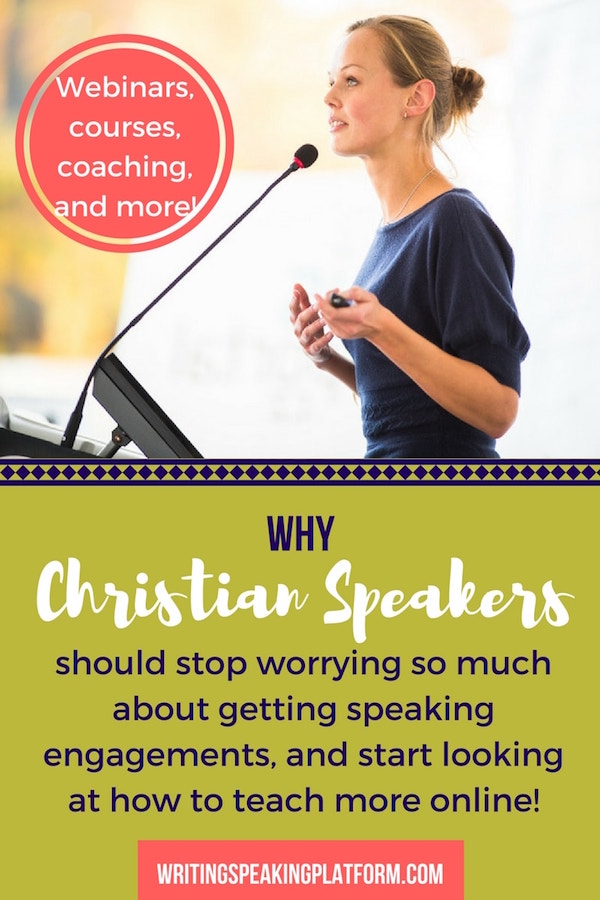 We must realize that we are called to communicate the message that God has given us to people-we are not called to speak on a stage to a large group of people.
Now, speaking on a stage to a large group of people may be part of that calling, but it is only a part. We can communicate that message in so many other ways.
And sometimes those other ways are actually more effective.
I was speaking recently to a woman whose passion is a very niche area: Helping women who are victims of emotional and verbal abuse heal and figure out next steps.
As you can imagine, there aren't a lot of conferences for that where she can speak. It's too limited an area. So she has spent the past several decades writing on the topic, but primarily speaking on general faith issues at women's conferences.
She does that well, but what she really wants to do is reach those women in marital crisis.
What she has decided to do instead is start coaching programs online to help these women. And as she's given up more and more "in-person" speaking engagements, she's had more time to dedicate to these coaching programs, that are increasing in enrollment massively.
When you speak in a niche area, it is much easier to teach online than it is to get hired to teach in person.
If you speak on depression, on overcoming the effects of child sexual abuse, on dealing with a husband who uses porn-all of these things are much easier to teach online. Because fewer people are affected by each of these things, individual churches are unlikely to put on events specifically targeted to that niche. And because these are often "embarrassing" issues, or things that conjure up shame, fewer people are going to want to attend in public anyway.
The online world, though, can remain relatively anonymous.
But how can you teach online?
You can host webinars, where people attend a "virtual" classroom and hear you speak and often watch a PowerPoint presentation, while they are able to ask questions via a chat room and interact that way.
You can create a video course where you teach a specific topic. I'm launching my "Boost Your Libido" course this week, where I've recorded 10 videos, and put them with assignments, extra resources, and prayer prompts so that people can work through it at their own pace.
You can host coaching sessions for a set number of people, where everybody can either phone in or appear at a virtual classroom at a specific time.
You can build an email course, where you send out emails at a specific schedule, often paired with ebooks or other online resources.
And the best part is that  you can often earn far more money doing this online than in person, because once the course is created, you can keep selling it with no other work on your part. Unless you're doing the live webinars or coaching sessions, people can keep buying it after the fact.
That's what will happen with my Boost Your Libido course, but also with my Launch Your Speaking Ministry course. I finished the latter course in September, but people still buy it even today.
If you're a speaker, video courses and webinars are the way to go.
They capture "you" and allow people to get a sense of your personality and delivery.
But coaching programs can also be good, too, because they allow some of that actual ministry, like praying with people and counselling people, that we often get when we do weekend conferences.
On Monday I'll be announcing a way that you can get access to three months free of a service where you can host video courses, but for today, I just wanted to say this: the hunger for God's truth is still there. But we may have to creative and think outside the box to figure out how to deliver it.
Twenty years ago, it was easy to get booked to speak at conferences. The good news today is that you don't need to convince anyone to hire you! You can go straight to the people-as long as you can get enough people on social media or on your newsletter list to let them know what you offer.
We'll talk about the latter issue soon, but for now, let me know: have you ever dreamed of creating a course? What would it look like? Let's talk in the comments!